2017 Its Been Real | Life
Just like that 2017 is over and I don't know why I get so shocked when years end because it happens ever 365 days, but damn. This year has snatched my edges and at the same time placed them back. It was a pretty crazy year filled with a lot of first, but overall it was a great one besides a few setbacks but that's always expected.
2018 is just a few hours away and there's a lot of challenges that I'm expecting, for one I graduate this year and I'm about to be thrown into the real world. Let's see how that goes. But I'm also ready to see the blessings that this year holds.
Many people don't like the idea of new year resolutions, but I still find myself making them every year because I can always look back and see what I accomplished. Here are 7 things I'll be doing to make sure I see growth in 2018!
Give Back More
Giving is something that comes easy to me but I realized that this year I was giving in all the wrong places. A lot of my money, time and energy was consumed in areas that pretty much didn't need it. I'm pretty good at helping and giving to the people around me, but this year I want to reach out and go out into my community and give back.
Write More
My writing isn't all that great and in order to grow in writing, I need to practice. Whether that's more blogging, more guest posts, or more paying attention to detail this is something I plan on focusing on. Also, there are a few sites that I've always wanted to write for and I'm making a goal of mine to be published on at least two on my list.
Save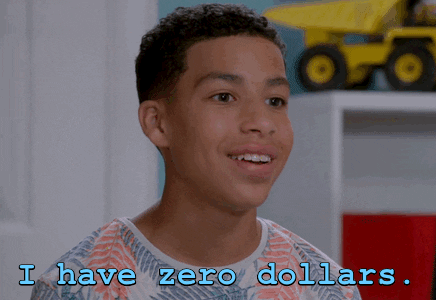 These past few semesters at my university have consumed all my coins and I plan on getting my savings account poppin' again in 2018. My spending habits have gotten out of hand and I plan to get them back in my hand… (get it? Lame I know).
Anywhoooo, budgeting isn't something that is difficult for me I just know that I have to take more time out my day to do things like cook and sacrifice a few things.
Patience + Self-Discipline
I realized that my lack of patience brings lack of self-discipline. If something is taking too long I tend just let it go and not stress myself out but in the end, it doesn't get me anywhere. I'm naturally a fast paced person and I don't like being slowed or stopped. I know that impatience and no self-discipline have caused me to miss out on many opportunities and I plan on  I have a few bad habits that I need to break and I know this will take all the patience and self-discipline I can find in myself.
Allow Myself To Be Loved
This one is a little bit more personal. If you know me personally then you know I'm notorious for cutting guys off for many underlying reasons that'll need a separate post. Not saying I have them coming at me left and right, I'm no Beyonce, but this is a reality for me. One day when I was talking to a friend of mine she said eight words that kind of made me reflect and they were "you need to allow yourself to be loved."
Although I laughed it off it honestly did make me sit back and think. So I plan to be more mindful of this and not be so hasty in my decisions.
Live In The Now
I'm the type of person that tends to dwell on the past and the future. I don't know why, but it's a bad habit of mine. It often makes me anxious and I didn't realize how much it was affecting me until a few months ago. It's a constant practice and although I can use my past as lessons and future as an incentive I have to remember to come back to the present.
Get Closer To God
The amount of blessings I've experienced this year I owe it all to God because there is no way I got through it alone. Since I transferred schools I realized that I've been distancing myself. I pray I count my blessing, but it just doesn't feel the same. I've fallen back into some old habits that we worked so hard to get myself out of.
I'm thankful to have made it to a new year and am ready to see the accomplishments from myself and the people around me.
Comment below what your plans for the new year are. Oh! And how do you like the new blog layout?
Until next time!